| Posted by unionwear
Upstart Journal
by Teresa Novellina
When Matthew Burnett, founder of Maker's Row, launched his own watch line in 2007, he followed the advice he had always heard and went straight to Asia to get them manufactured, believing the costs would be less.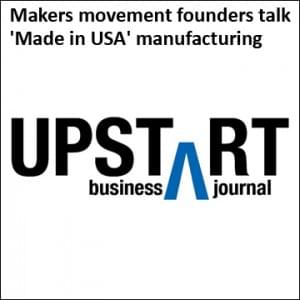 But because he was a new brand, and wasn't placing huge orders at once, he ran into problems that hurt his business.
"My largest order was the factory's smallest order and I was always getting pushed to the back of the line," Burnett recalled in a panel talk at Northside Festival Friday. That problem led to first a much-improved arrangement domestically (more expensive, but ultimately worth it), and eventually his New York City-based startup, Maker's Row, an online network of U.S. factories that he launched in November 2012 and which connects designers with domestic factories.
His company tapped into a trend toward made-in-the USA brands, one that panelist Mitch Cahn of made in the USA manufacturer Unionwear says has little to do with patriotism but plenty to do with buying local, environmentalism, and a growing demand for better workers' rights. His Newark, N.J.-based manufacturing firm, which supplies unions, government organizations and others with apparel and accessories, now has fashion designers calling.
"There are a few misconceptions about Made in the USA," Cahn said. Among them: that the cost of raw materials is more expensive here. In fact, prices on imported textiles have been rising 25 percent a year for the past few years, and "we're in the ballpark" on textile prices in the United States.
Meanwhile in China, labor costs are on the rise, and workers are demanding better conditions as well.
While labor costs remain higher here, one cost-saving strategy he has found that works is what he calls "lean manufacturing," which he says makes sure that people involved in labor spend as much time as possible on activities that improve the quality of the final product, and represent an improvement "that your customer is willing to pay for."
Jeff Sheldon, the founder of Ugmonk, is a graphic designer whose e-commerce company uses American suppliers. It's pricier, but he saves in the long run. For instance, because the brand uses a screen printer domestically (for which they paid more), they've built a relationship that means when he has a rush order, Ugmonk gets pushed to the front of the line.
"I think it's really true that you get what you pay for," Sheldon said. "I've learned that if you ask for cheap or the best quality you're going to get one or the other."
Source: http://upstart.bizjournals.com/entrepreneurs/great-mistake/2014/06/13/makers-movement-founders-talk-made-in-usa.html