Twenty Years of Custom Gear Made Right Here.
Unionwear is the trade name, url and dba of New Jersey Headwear Corp. Founded in 1992, we manufacture and embroider headwear, bags, accessories, workwear and safety gear. Unionwear currently operates a 45,000 SF manufacturing facility at 305 Third Avenue West, in Newark, where we employ 115 people.


A lot more people are buying Made in USA now that goods are 25% more expensive than Made in China than when goods were 200% more.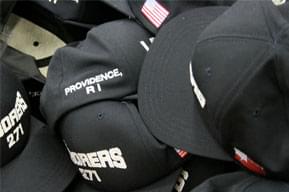 Unionwear sells through a nationwide network of several hundred promotional products distributors.
For the past ten years Unionwear has focused on providing products to clients requiring products to be made in USA, so we were not forced to compete with imports on price. The US military and federal government accounted for half of our business, with clients like labor unions and presidential campaigns representing much of the balance.
However, the era of cheap imports is over. Inflation, labor unrest, and burgeoning consumer demand in Asia, the weak dollar and fears of the artificially devalued Yuan, and transportation costs and headaches have led textile companies to hedge production by including domestic components. As the premium paid for domestic production shrinks, more and more markets are enforcing labor standards in their procurement: Colleges. Federal, state, and local governments. Corporations with strong union workforce for employee gear. Nonprofits. In the last year Unionwear has even seen a surge in contract work for the garment business.

When workers earn a living wage and health benefits, turnover is low, morale is high, and they have a stake in the company's success and identify with its clients.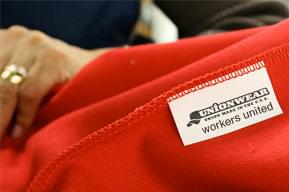 The "Made in USA" label might not convince consumers to spend more on textiles yet, but labor content in product labeling is as important as ever. Popular buzzwards like Locally Grown, Fairly Traded, SweatFree, Union Made, and Living Wage are all certifications that say something about how and where a product is made. Buying local is important to consumers because it demonstrates that you create value in the community. Taking a stand against sweatshops will reduce exploitation and increase worker rights worldwide. Devastating factory fires continue to occur in unsafe working conditions to this day. Unionwear is active in BALLE and Sweatfree.org.

The union label is a badge of quality, workplace justice, and living wage.
Unionwear's employees are represented by Workers United, Local 155, and as such earn health insurance, pension, vacation days, and holidays. It is a myth that "union made" costs more than just "made in USA". Domestic worker rights laws affecting the federal minimum wage, family leave, and equal pay, and affordable health care passed during Democratic control of Congress narrowed or eliminated cost differential between union and non union domestic factories.

300 factories with 12,000 workers call Newark, NJ home. Location, labor, and transit have made Newark the East's manufacturing hub for 150 years. All Unionwear products are made in Newark.