Do you want to see the words "Made in USA" again?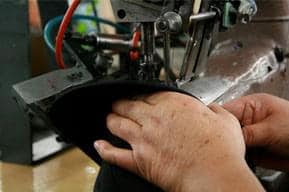 When you make something locally you create value. Local factories energize the economy and invigorate the community by creating jobs, supporting families, and recycling dollars.
Unionwear's sustainability is built on a foundation of enduring client relationships and workplace satisfaction. We reward our garment workers with union wages and benefits so they have a stake in the long term success of our customers. A living wage can buy the gifted hands of a veteran seamstress. Low employee turnover means knowhow and resourcefulness on the shop floor. High morale means high productivity, lowering costs and speeding up deliveries. Company loyalty translates into pride in workmanship, which can mean pampering every order, every unit that sports our label.
Unionwear has invested heavily in a culture of continuous improvement. We innovate, we tinker, we adapt and we evolve. We've expanded into niches suited for the agile, local, "LEAN" manufacturer: small batch manufacturing, lightning fast product development and deliveries, medical packaging, travel gear, safety products, work wear. Now exchange rates and shipping headaches have made local manufacturing attractive again, even for labor intensive hats and bags.

Bringing manufacturing back one factory at a time.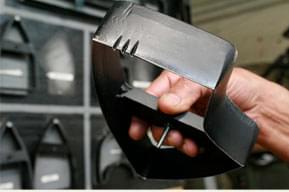 Unionwear's expertise has been in reviving dead garment factories in NY, NJ, and PA by salvaging their machinery and the expertise of their workers, replacing management with lean manufacturing principles, and focusing on markets for their products that require domestic manufacturing.
In 1992 Mitch Cahn acquired the assets of London Cap Company, an 80 year old Jersey City baseball cap contractor, in a foreclosure auction and formed New Jersey Headwear Corp. The company started with 6 sewers, and after landing contracts to make caps for Polo Ralph Lauren, Izod, Gant, Barneys, and a number of skateboard and hip hop lines, the company grew to 35 machine operators.
In 1993 the company started Headcase Hemp Hats, and by 1997 was churning out hundreds of thousands of hemp hats and t shirts per year.
In 1995 we acquired and relocated the entire domestic embroidery operations of the apparel manufacturer Nautica (relocating the operation the operation overseas) to our (then) Jersey City location, and hired all management and personnel to instantly give us an in house embroidery operation.
By 1998 it became apparent that most of the textile business was going to move their production to Asia indefinitely. After realizing we were one of a handful of (now the only) union label baseball cap manufacturers in the country, we took on the dba "Unionwear" and began marketing our products to labor unions through the promotional products industry.
In the year 2000 Unionwear got into the political business when the Al Gore campaign decided to use a union made baseball cap to entice Democrates to donate money through the internet. Over the next several years Unionwear made deals for assets, inventory, and sales with the remaining union hat factories that closed their doors or moved production overseas, such as West Penn, King Louie, and Kraft Hat.
In 2007 we acquired all the assets of Bag Specialists / ETI Konvex, a manufacture of backpacks, laundry bags, and high end tote bags for Vineyard Vines, from the Internal Revenue Service. We relocated 90 machines and hired 40 operators who were out of work for no more than two months. In 2008, the increase in the federal minimum wage leveled the playing field for union manufacturers and Unionwear was able to compete with manufacturers in right-to-work states for military contracts.