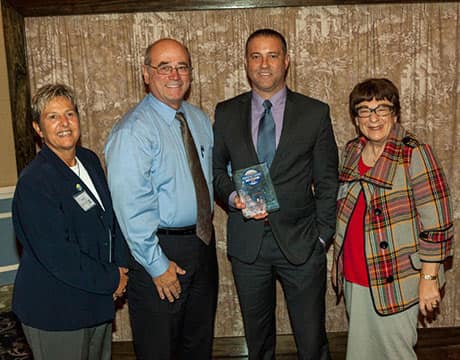 Mitch Cahn, the President of Unionwear, and the Chairman of the Newark Workforce Development Board, has won the Raymond Hopp Lifetime Achievement Award for Excellence in Manufacturing. The announcement was made official at National Manufacturing Day. The fifth annual event was held on Friday, October 7, 2016. This celebration aims to improve public perception of the manufacturing industry's economic value and to expand knowledge of manufacturing careers.
The Excellence in Manufacturing Award was established in memory of the president of HK Metalcraft, Raymond Hopp. Mr. Hopp was extremely dedicated to the New Jersey manufacturing community's workforce development and was considered a strong advocate for their cause.
This very special award has specific criteria that the ideal candidate must meet:
Demonstrate clear respect for cultural awareness and diversity
Show a willingness to explore and learn new technologies
Display passion for continuing education
Be active in associations that indirectly or directly support manufacturing
Understand networking's importance
Be a forward-thinking, creative, innovative business person/entrepreneur
Show, through their treatment of employees, peers, and business associates, that they are a highly moral businessperson
Have been involved in the New Jersey manufacturing community for a minimum of 20 years.
Back in 1992, Mitch Cahn started the New Jersey Headwear Corporation, which would one day become Unionwear. He landed a contract with Ralph Lauren for ball caps and had 15 individuals doing all of the sewing. Now, with 175 employees, Mr. Cahn's Unionwear is responsible for nationwide promotional gear used in political campaigns and much more. Additionally, he is a principal textile supplier to the federal and state governments, post office, homeland security, and the military.
As president of Unionwear, and in years before that, Mr. Cahn has been publicly recognized as a passionate individual who works relentlessly to do as much as possible within his platform and position. A recommendation specifically for this award credited Mitch with not only meeting but exceeding the challenging expectations and requirements to win the Raymond Hopp Award for Excellence.
Mr. Cahn's commitment to fellow manufacturers and education is evident; he participates in numerous events and organizations, including but not limited to Grants and Incentive Programs for Urban Manufacturers; Cloud, Mobile, Manufacturing Technology on the Shop Floor; Designing for Manufacturing; Worker Rights Compliance in Procurement; Continuous Improvement and Lean Manufacturing, marketing "Made in USA"; and more.
Numerous fellow entrepreneurs and friends celebrated Mr. Cahn's achievement. Cohn Reznick (of Cohn Reznick LLP) offered an official pat on the back via Twitter: "Congratulations Mitch Cahn of [Unionwear USA] on receiving the Raymond Hopp Award for Excellence." Cohn Reznick LLC is one of the top advisory, tax, and accounting firms in the United States.
Thanks to devoted entrepreneurs such as Mitch Cahn and his devotion to manufacturing high-quality products, consumers have a viable and laudable alternative to cheap imports.