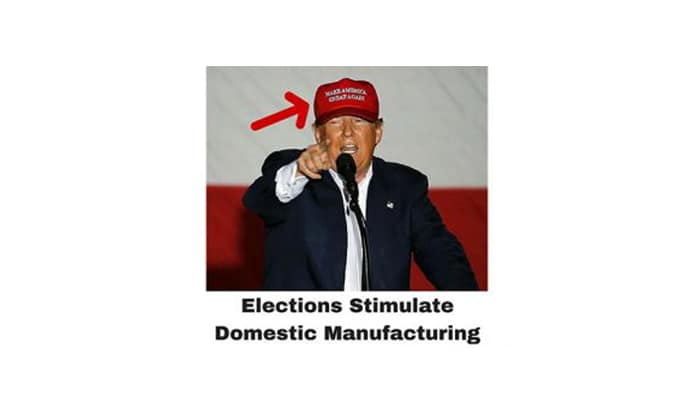 With the presidential election season heating up, demand for candidate promotional products is growing by leaps and bounds. One supplier that knows a thing or two about the election rush is Unionwear, a custom apparel and accessories facility based in Newark, NJ, that offers made-in-the-USA items by employees represented by New York City-based Workers United, Local 155. The company has been producing election merchandise since 1996, when it designed a few hats for the Clinton-Gore campaign.
Four years later, in 2000, the Gore campaign gave away baseball caps from Unionwear to online donors, and the volume skyrocketed to more than 100,000 pieces. In 2008, the company made every hat for the Obama and McCain campaigns, as well as both conventions. This year, Unionwear is producing merchandise for seven campaigns, including Hillary Clinton and Donald Trump.
During the fall – even before the real election time kicked into high gear – the company was completing about 2,500 units a week for the major candidates, a number that the organization expects will triple by this summer.  "Campaigns look for distributors who can handle everything from product development through fulfillment, including running the Web stores," says Unionwear President Mitch Cahn. "Those distributors with experience in the political merchandise market have an advantage because they can project volumes and work on a week-to-week basis with their suppliers.
All campaigns vet their suppliers to make sure the goods are really made the way they're labelled so merchandise doesn't become a source of embarrassment." In addition to headwear, Unionwear produces a number of different merchandise items, including all-over dye sublimation backpacks, tote bags and computer bags. They've even produced basketball jerseys and yarmulkes for Obama, what they called Obamakahs. "
There is a strong wave of USA made consumerism right now, but it shouldn't be confused with patriotism," says Cahn. "While 'American Pride' sounds good, what actually causes buyers to connect with 'USA-made' are deep convictions about issues that support of domestic manufacturing can cure, including Worker Rights, Localism and the Maker Culture, which emphasizes the craft behind the product. Companies and campaigns are sensitive to being judged on their commitment to everything from helping rebuild our economy to the working conditions at vendors' factories."
Source: Counselor Magazine, Hail to the Chief Source: http://www.brandedgear.com/news/hail-to-the-chief/