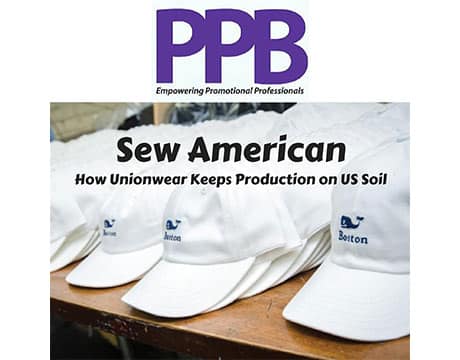 Original article and photos of factory tour found at PPB Magazine.
Unionwear stitches pride into every U.S.-made, union-made cap and bag.
Twenty years ago, textile imports and overseas manufacturing were on the rise, as companies sought ways to do more business with less overhead. But at the same time, Unionwear/Konvex (UPIC: MADEINUS) was founded with a focus to keep manufacturing and production on American soil. Now the New Jersey company is a proud supplier of caps, bags and military goods that are both U.S.-made and union-made.
"We produce more than 600 different kinds of hats and bags in 360 color combinations," says David Bronson, national accounts manager at Unionwear. "The most complicated bag we make is a casualty care bag for the U.S. Army, which requires 75 steps and over 100 pieces to produce. It is a fanny pack that holds medical supplies for Army medics."
The simplest product, Bronson says, is a ski hat. To produce the popular cap style, machines knit yarn into a tube and employees cut the tube and sew it to shape. Unionwear customers' top picks from the supplier are brushed cotton unstructured hats, structured cotton twill hats and tote bags.
To ensure a quality-finished product that's wearable, usable and long-lasting, Unionwear has invested in dozens of pieces of specialized equipment—each dedicated to a single step in the process of assembling hats or bags. Additionally, Unionwear team members are experienced in the manufacture of such items. "We require employees to have five years of industrial sewing experience before they are allowed to finish products in our facility," says Bronson.
"Our experience in making both hats and bags has benefitted the production of both products," he adds. "In addition, we have become experts in decorating unfinished hat and bag parts, which enables us to get much better quality, larger embroidery fields and lower prices."
Read on to see how Unionwear pieces together its popular line of hats.
The caps begin as a roll of fabric, which is drawn out and cut for the quantity needed per order.
Each panel of the cap is then die-cut according to the type of cap it will be—structured, unstructured and fitted are a few styles Unionwear makes.
At sub-assembly stations, the panels are sewn together and eyelets are sewn in as well. Embroidery is done at the flat-panel stage, as on this back panel.
More than 100 embroidery machines run daily at Unionwear
Visors are produced and attached to the crowns of each cap.
Next, the trimming, cleaning and quality-control process begins.
Finished products are inspected again before being polybagged, boxed and shipped.
ABOUT UNIONWEAR
Founding date
1992
Principal
Mitch Cahn
Number of orders filled per year
5,000
Number of employees
140
Size of production facility
70,000 square feet
140 sewing machine operators
Dedicated production lines
Baseball caps
Promotional tote bags
High-end tote bags
Military packs
Bucket and boonie hats
Patrol caps
Duffels, attachés, messenger bags and backpacks
Types of specialized equipment
Hat taping machine
Robotic blocking unit
Sweatband-making machine
Double-needle hat taping machine
Bucket-brim stitching machine
Hydraulic die-cutting clicker
Tajima embroidery machines
AS Technologies roll fuser
Zipper
Automated web-cutting machinery
Programmable tackers
Programmable box stitchers
Roll-to-roll zipper-to-gusset attach
Self handle machinery
Roll slitter for making handles