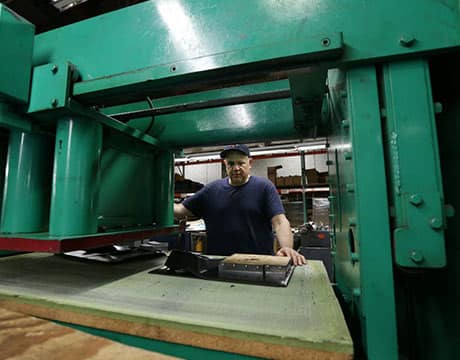 Unionwear has acquired the remaining assets of DLX Industries, the promotional, union made in USA sewn leather portfolios and binder manufacturer from Brooklyn. Unionwear has hired DLX's Sales and Marketing Director, Cindy Kronen, and Plant Manager Phil Stern. Ms. Kronen brings with her 20 years of sales and marketing experience. Phil Stern, DLX's plant manager for 17 years, joins Cindy (along with other key employees) as they set up a new shop in Newark New, Jersey.
Unionwear, a union manufacturer of bags and hats, started out as the New Jersey Headwear Corporation with only 15 workers back in 1992. A contract with Ralph Lauren helped put the young enterprise and President Mitch Cahn on the map. Today, 25 years later, the company has 175 employees who manufacture and embroider headwear, bags, accessories, safety gear, and work gear. Recently, they have created promotional gear used nationwide in political campaigns. They are a principal textile supplier to homeland security, the postal service, federal and state governments, and the military.
DLX specializes in the manufacture of business accessories and promotional products. Their mission, now as part of Unionwear, will be to provide high-quality, domestically manufactured, union-made products at affordable prices. They offer innovative designs and products of various materials and colors. DLX's most popular products have been sealed and sewn vinyl and leather items such as Binders, Portfolios, Checkbook Covers, Check Presenters, and Desk Accessories.
Following the merger of DLX and Unionwear, if you are seeking union-made stitched and/or sealed portfolios, binders, and vinyl folders, you need look no further. They will now be created in Newark, New Jersey by Unionwear, which will manufacture the same business presentation products, with the same attention to quality, that you have purchased from DLX over the last decade. The facility is fully operational, and their product line can be found at https://unionwear.com/portfolios-and-folders.
"Made in USA" has become not only a declaration but a theme. The difference in pricing between Made in China products and Made in USA products is diminishing. Companies like Unionwear aim to reduce the purchase of imports by promoting affordable products of outstanding quality made right here in the United States.
Workers United, Local 155 represents the employees at Unionwear. The company considers the union label a badge of workplace justice, quality, and a living wage. Their employees earn holidays, vacation days, pension, and health insurance. And they want the public to know that the "Made in USA products cost less than Union Made products" way of thinking is a myth, a fallacy. The cost differential between union domestic and non-union factories has been eliminated (or at least substantially narrowed), thanks to the Democratic Congress' intervention. This intervention affected the rights and laws concerning affordable healthcare, equal pay, family leave, and the federal minimum wage earned by domestic workers.