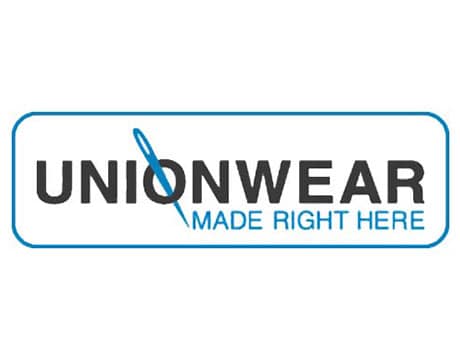 Unionwear has curated over 40,000 styles of bags (50 body styles, 360 color combinations, 5 fabrics) to filter through on our website at https://unionwear.com/bags/.  Minimums are 48 units, and prices are 25 to 40 percent off for wholesale clothing companies and decorators.  All these bags are made to order, so slight modifications are available with minimums of 150 units.
Will Unionwear custom manufacture my own bag design using specific materials?
If you are looking for a domestic manufacturer of a product you have already sampled and already have sources for your materials our minimums are 300 units per style.
See below for minimums on sourcing and pricing on patternmaking and sampling.
What does Unionwear need to give clients a quote on cut and sew?
Fastest and cheapest: find a similar bag at https://unionwear.com/bags/.  Note that we offer discounts of 25 to 40 percent off of our list prices to wholesale clothing companies and decorators.  Send the link to our product page, or the item code,  and a description (which must include dimensions, materials, and quantity) of how you want to customize that product.
When moving production from overseas:  Send us a sample of your product, tell us what you want to change about it, what we can't change about it,  and let us know what your unit budget is.   We will then let you know what we are able to do in your price range.
If this is a new product you have designed–We need dimensions, visuals, and quantity range estimates, and what design or functionality elements are critical, so we can make re-engineering recommendations to keep domestic sewing costs down (our specialty!).
Ideal:  send us an actual sample of your or a similar product along with notes of how your product differs.
Almost as good:  a TECH PACK–drawings of all bag features, inside and out, with dimensions, along with your fabric and trim guidelines if we are sourcing for you, or descriptions of the materials you will be providing us.  You can even send us links to photos you find online of other products so we can see how you want certain items finished (as in you like the gusset from bag A, the zipper from bag B, etc.).
Where do I send this stuff?
Fax: 973 497 7708
Email: sales@unionwear.com
Shipping address: Unionwear attn: Colin Greene, 305 Third Ave W, Newark, NJ 07107.
How long does it take for Unionwear to quote a custom job?
We can usually get you a quote on a modified Unionwear pattern in 24 hours.  A totally custom quote will take 2-3 days from the time you get us everything we need to know. Any quotes requiring sourcing may take longer as we have less control over vendors quoting us.
What are Unionwear's minimum runs?
To tweak an existing product, minimums are usually 300 units. To create a new product, our minimum order is $5000 with a minimum of 300 units per style/colorway per order.
Will Unionwear source materials for clients?
Unionwear has thousands of materials in inventory to choose from and over one hundred fabric and trim vendors.  If Unionwear stocks your material, there are no minimums.
You are welcome to source materials yourself and just use Unionwear for the cut and sew work. If you require a complete package…
If your  materials request can be sourced from our existing vendors, such as a special color of a fabric or a special width of a webbing we already carry, we will base your minimums on our minimum purchase (around 300 units for custom fabric for example).  If we need to find materials from new vendors, we require higher minimums (around 1500 units for custom fabric for example).
What charges and collateral materials does Unionwear need to supply a sample or go right into production?
If this is a modification of a product already on unionwear.com, the sampling cost is $75, and no patterns are required, but foolproof  explanations of the modifications will be required to avoid multiple sampling charges.
If this is a new product:
To avoid pattern-making charges, send patterns along with finished dimensions and seam allowances.
If we are not using stock materials, you will need to provide us with all materials.  If we are sourcing non stock materials for you, all costs associated with receiving sample materials will be quoted to you and they must be prepaid in addition to any pattern or sampling charges.
If you would like Unionwear to make your patterns, Unionwear needs at a minimum visuals (drawings, links, samples) and finished dimensions.   Any curved lines must be drawn to scale, and all dimensions between trims must be communicated (such as the distance from a buckle to the edge of the bag).
Unionwear charges a minimum of $75 for pattern making and an additional $75 for sample making, with a maximum of $15 for every pattern that needs to be created for the pattern making and $15 for every separate piece of fabric involved in the sample for sample making.
If the product requires embroidery, there is a charge of $25 for one embroidery, and a separate charge for digitizing the design for embroidery if a .dst file is not provided.
What is the lead time for sampling with and without patternmaking?
Sampling takes six to ten business days from receipt of all collateral materials. Sampling with patternmaking takes 11 to 15 business days receipt of all collateral materials.
What is the lead time for production?
Normal turn time is 3-4 weeks from receipt of all materials.