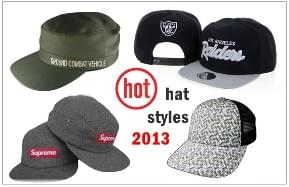 We get an early look at fashion trends in our role as local headwear contractor to the NYC garment industry. And four styles of hats are blowing traditional baseball caps away:
1. Snapbacks. The hottest hats are "snapbacks" meant to evoke the 70s pro baseball cap styles worn by the old school rappers of the early 90s. Two tone caps with high fronts, flat visors, and "Made in USA" embossed adjustable plastic straps evoke the era before these products were outsourced to China.
2. Five Panel Camper Hats. Five panel caps with with a low, relaxed shape, totally custom cut and sewn in small quantities. Made in canvas, duck, waxed poplin, wool Melton, plaid flannel, often with a patch or label sewn on front and a suede visor, aka "Fudd hats", "fly fisherman hats" or even "Fargo caps."
3. All Over Prints. Sublimation prints are full color prints that encompass the whole front panel of the cap and even the top of the visor. Actually, the whole hat (or a bag) is game. Unionwear's new seamless lowstyle cap allows for printing a totally flat surface with no breaks for the seam. Contact us at 973 854 6725 or sales@unionwear.com to discuss setting up a program to print fabric or cut parts.
4. Utility Caps and other Military Style. With combat forces becoming more inclusive, dont expect this trend of military shapes and camo hats to abate any time soon. Unionwear stocks 12 types of camo, including Realtree and is an official military supplier for all major military patterns, and offers, boonies, ghillies, 8 point,
utility caps (pictured), and garrison caps.