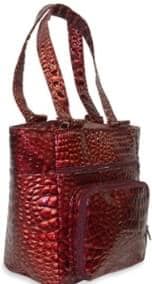 With labor costs continuing to skyrocket in China, transportation costs trending upward, and importers piling on currency hedge premiums, a number of promotional items have become less expensive to produce domestically. Four places to look:
1. Products made out of expensive materials. Pricey leathers and performance fabrics make the difference in labor costs insignificant. This bag uses $40 worth of leather whether it's made in China or New Jersey. If labor costs are $9 domestically and $3 overseas, the FOB price will be $49 vs. $43–and the shipping, duties, taxes, cost of capital and other import headaches will more than eat up the cost savings. That's why so many leather bags are made in the USA or in places even more expensive, like Italy.
2. Bulky products that are expensive to ship. Look for hard cases, coolers, laptop bags, products that don't ship flat or nest. We recently made a hard case that was three feet wide by two feet high–it was more cost effective for the client to buy domestically than to pay to ship mostly air around the world.
3. Products with unnecessary bells and whistles. When labor was almost free, the Chinese often engineered products to "make work", and little has changed. Evolved US factories re-engineer, eliminating unnecessary labor from imported products and build dedicated, lean production lines to keep labor costs low in a high wage environment.
4. Small batch customization. Import unit pricing may still be cheaper on most items, but there is a large overhead with every transaction. Language differences require tech packs. Sample approval and product development cost a fortune. As a result, customization in small quantities is cost prohibitive. Not domestically: you can do all over prints, custom dye lots, custom patterns, and panel embroideries by the hundreds–not tens of thousands.