| Posted by unionwear
With the presidential election season heating up, demand for candidate promotional products is growing by leaps and bounds. One supplier that knows a thing or two about the election rush is Unionwear, a custom apparel and accessories facility based in Newark, NJ, that offers made-in-the-USA items by employees represented by New York City-based Workers United, Local 155. The company has been producing election merchandise since 1996, when it designed a few hats for the Clinton-Gore campaign.
Four years later, in 2000, the Gore campaign gave away baseball caps from Unionwear to online donors, and the volume skyrocketed to more than 100,000 pieces. In 2008, the company made every hat for the Obama and McCain campaigns, as well as both conventions. This year, Unionwear is producing merchandise for seven campaigns, including Hillary Clinton and Donald Trump.
During the fall – even before the real election time kicked into high gear – the company was completing about 2,500 units a week for the major candidates, a number that the organization expects will triple by this summer.  "Campaigns look for distributors who can handle everything from product development through fulfillment, including running the Web stores," says Unionwear President Mitch Cahn. "Those distributors with experience in the political merchandise market have an advantage because they can project volumes and work on a week-to-week basis with their suppliers.
All campaigns vet their suppliers to make sure the goods are really made the way they're labelled so merchandise doesn't become a source of embarrassment." In addition to headwear, Unionwear produces a number of different merchandise items, including all-over dye sublimation backpacks, tote bags and computer bags. They've even produced basketball jerseys and yarmulkes for Obama, what they called Obamakahs. "
There is a strong wave of USA made consumerism right now, but it shouldn't be confused with patriotism," says Cahn. "While 'American Pride' sounds good, what actually causes buyers to connect with 'USA-made' are deep convictions about issues that support of domestic manufacturing can cure, including Worker Rights, Localism and the Maker Culture, which emphasizes the craft behind the product. Companies and campaigns are sensitive to being judged on their commitment to everything from helping rebuild our economy to the working conditions at vendors' factories."
Source: Counselor Magazine, Hail to the Chief Source: http://www.brandedgear.com/news/hail-to-the-chief/
| Posted by unionwear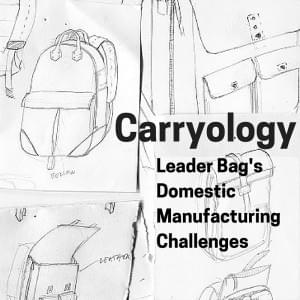 How did Leader Bag Co come to be?
Leader Bag Co was born from a love of beautiful design, and the desire to create a family-centered product that is truly missing from the marketplace.
When Meghan Nesher was pregnant with her son, Julien, she went shopping for a diaper bag that would work for both she and her husband. Coming up empty-handed, she opted for a Brooklyn Industries messenger bag; great for function, not so much for fashion. After a few months of use, she switched to the Fjällräven backpack; stylish and more comfortable, but not super functional. It was around this time that Meghan and her sister-in-law Liz Elliott, also a new mom, had their lightbulb moment: Why isn't there a diaper bag that is beautifully crafted, simply designed and practical for both mom and dad?
Meghan, Liz and third sister-in-law Jess Nesher formed and funded Leader Bag Co as a family business in 2013. Since inception, we've enlisted the help of technical designer and manufacturing guru Jay O'Neill to bring our idea to life, and the uber-talented Lotta Nieminen to create our brand aesthetic.
Your brand is still only a year old, but what's been the biggest challenge you've faced so far?
As a team of four, we all bring different strengths to the table, but at the same time, we all have strong opinions about pretty much every aspect of the business. We value playing to each other's unique talents, but it's not always easy with lots of cooks in the kitchen. We are constantly perfecting our team's balance.
Manufacturing in the US – we were totally warned over and over that this was going to be difficult. All of us are perfectionists, and we're all demanding, and I don't think Unionwear knew we'd be so high-maintenance. Lucky for us, they have tons of pride in their work and are always striving to exceed expectations – which they did and continue to do.
Best thing you've learned?
Mistakes are opportunities, either to learn from or to create something new.
Your signature diaper backpack, the Julien, is a slick answer to a universal need; what kind of R&D did you pursue in the early stages?
Since we were all new moms, we did a lot of research for ourselves in the diaper bag market. We spent time looking at bags we didn't like – even bought a few to compare. At the same time, we collected non-diaper bags we liked too, mostly based on modern aesthetics and strong craftsmanship.
We made lists of all the gear we stuffed into our baby bags and measured everything to make sure we designed the right size storage. We talked through where we would take the bag and what features we might need; for example, a hook to hang it in a bathroom stall while you change baby at a restaurant.
We collected tons of images on shared Pinterest boards – including inspiration for the brand, the bag and the lifestyle we wanted to promote.
Jay led us through multiple rounds of bag sketches – all different flavors and styles – until we settled on one we liked. He took the sketches to technical drawings, collected materials and had samples made. We went through at least three rounds of samples with Unionwear before we got our pack just right.
We put our samples on everyone's backs, asked for feedback and took photos. We were careful to remove any design elements that seemed "girlie", and made sure the shoulder straps were long enough to fit a really tall dad.
What features make the Julien awesome for carrying baby essentials?
The fact that it's a backpack is key. We are all about leaving both hands free for tending to baby and being fully involved in family activities. Style-wise, the backpack is better for dad too – he'll feel much more comfortable than if he were asked to carry a one-shoulder bag.
Ultimately, the Julien is awesome because of its storage and organization. We loved the idea of doing a drop-in "pouch" that can house some basics like a change mat, a few diapers, diaper cream and wipes. This way, you can just reach in and grab it for a quick change while you're out.
We also made sure there were tons of compartments for all the essential gear. Outside, there are four decent-sized pockets for easy access, plus a clasp for hanging your keys. We also added stroller straps and hooks so you can easily hang it on your stroller when you don't want to carry. Inside, there are four baby bottle (or water bottle) pockets, a sleeve for the change kit (or even a computer or iPad), a zipper pocket, and a few other larger pocket compartments. It's wipe-clean and very utilitarian, but you wouldn't necessarily know it from the outside.
When you're running on no sleep and wearing the parental uniform of tracksuit pants and an old t-shirt, why is a luxe bag like the Julien important?
Being a parent isn't always an elegant, effortless job. Especially when you're a new parent running on empty and feeling overwhelmed.
The Julien immediately elevates your look: leather and canvas with rose gold details, all mixed with fine Made in the USA craftsmanship. And it's effortless – it looks great with everything, is comfortable and keeps you organized so you can focus on what's important: being present for your kid. There is absolutely nothing more chic.
Who else is making rad baby-related carry? Who inspires you to be better?
No one, in our opinion, is making a great diaper bag we'd want to carry! We do like Fawn and Cub's change mat, and Ida Ising's change mat/bag design.
Accessory and clothing companies outside of the diaper bag industry inspire us to be better, and companies that are producing their goods in the USA: Clare Vivier, Emerson Fry, Mansur Gavriel, Marine Layer, imogene + willie, etc.
What's next for Leader?
There is a ton of room for us in the baby market right now. We see a lack of simple but beautiful and useful design, especially in kid accessories – which creates a whole lot of space for Leader to play.
What do you personally carry daily? And why?
Our Leader bags, of course!
| Posted by unionwear

TRANSCRIPT: Bill Clinton, Al Gore, John Kerry, John McCain, Barak Obama, Hillary Clinton, Bernie Sanders, and Jeb Bush all have something in common: the White House, yes, but also , this baseball cap factory in Newark, NJ, and more specifically, this guy:
"What they do is incredibly dexterous, I can't do once what they do all day, which is take that thread and just throw it through a little hole."
In 1992 at the age of 25 Mitch Cahn quit his job on Wall Street and bought a bankrupt hat factory in Jersey City at an auction sale. The idea was to make baseball hats for the fashion market including brands like the Gap. It was a trend at the time, but there was a hiccup. By 1994, American manufacturing was fleeing to cheaper manufacturing overseas and undercutting Mitch's prices.
Mitch needed a new plan, so he turned to groups with vested interests in manufacturing goods in the US, and at the top of that list was political campaigns which is where this story gets interesting.
Cue James Carville: "Bush is buying up to $10 million in printing in Brazil. The president don't buy American for his campaign."
Making campaign gear offshore created the potential for a political scandal.
Cahn: "We are making hats for almost all the candidates, we are doing work for Hillary Clinton, Bernie Sanders, Jeb Bush, If someone is having a hat made here, then they are making a decision to use American Labor."
Campaigns aren't the only clients who rely on Mitch's US based factory.
There are socially complaint companies and non-profits who want to avoid any possible connotation that their products could be made in a sweat shop. The US Military. Promotional gear for labor unions and other companies looking to cobrand with the USA Made label. And the fashion industry.
But political campaigns are where Mitch has really dominated the market. Now located in Newark, his factory has been pumping out millions of hats from behind these doors, manufacturing for every Democratic primary candidate since 2000, as well as John McCain, George W. Bush, and Jeb Bush.
The bad optics of a made in China label aren't the only thing driving political business to Mitch.
"The market is moving to small batch customization", said Cahn. "Consumers are expecting to get products that they order in 2 or 3 weeks and you can't wait 60 or 90 days for goods to come in on a ship. Your generally have to order a much larger quantity of goods when you bring things in from China, than you can domestically, and there is no way you can get things turned around a week or two."
Which is key in the ever changing landscape of politics. Campaigns rarely have the luxury of folks ordering a set amount of products months in advance. They rely on quick turnarounds and flexible order sizes while replenishing their online stores. A bonus for the campaigns, especially those seeking much needed endorsement from a big union: Mitch also uses organized labor.
Once mostly the norm amongst textile manufacturers, Mitch's pro union stance is a rarity these days, which is something he is proud of.
"Any difference in wages is made up of any increased productivity by our workers who are generally more content in their job. This was a union shop since the day we opened.
I believe over half of our people have been here for at least over 15 years."
As manufacturing costs remain relatively flat in the US while rising dramatically in places like China, Mitch's pro labor stance could become more prevalent. It is possible other manufacturers will follow Mitch's lead and we'll see more textile work come back to the USA. For now Mitch's made in Newark factory is still producing the vast majority of the hats you see in the presidential campaign trail. But the most popular hat he has ever produced, you might have a guess if you have been tuned into the 2016 campaign season.
"Probably the hat we make the most here is the hat that says Make American Great Again which was made popular by Donald Trump and we are making that for the company selling the Made in USA version of that hat."
Trump unsurprisingly uses a non union factory in California to produce the authentic version, but with all the polarization these days. It's nice to know so many other politicians on both sides of the aisle can agree on thing. Newark is a great place to make hats.